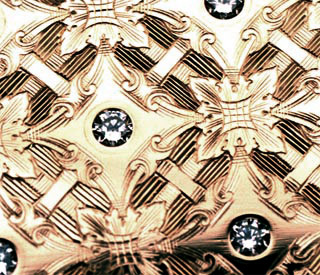 The difference between bright cut engraving and other engraving is that in bright cut engraving, the graver is polished. A polished graver point will make polished engraving cuts. For large bright cuts, I prefer to lay a "V" graver over on one side. It also works use a flat graver for this type of cut.
Use a 260 diamond lap for roughing, and a 1200 lap for finishing. A 600 lap isn't needed, as the 1200 cleans up the 260 finish quickly. For bright cut work, the graver needs to be polished beyond the 1200 lap. Apply diamond compound to the back side of a 1/16" thick diamond lap, and use the back of the lap in the same manner you would use the front. A copper lap works well for this too. Smear a small amount on the back of a lap. When a metal lap is used, some of the diamond will embed itself into the metal, preventing it from wiping off. This is called "charging". The process can be sped up with a hardened dowel pin. Use it like a rolling pin. Lay the lap on the bench, smear some diamond on it, and roll the hardened dowel pin over it with a lot of pressure.
For engraving that is to be blackened, it is not necessary to polish the graver further than a 1200 lap finish.
Examples of bright cut engraving.